Registration Step-by-Step Help
APRICOT is using APNIC's new registration system for APRICOT 2020. You will need to have an APNIC Login to register for the conference. If you registered for a previous APRICOT conference, the old username and password won't work on the new system.
If you have logged into the APNIC Academy or MyAPNIC before, or registered for APNIC 48 in Chiang Mai, then you already have an APNIC Login. Just use those same credentials to log in to the event registration for APRICOT 2020.
If you don't have an APNIC Login, it's simple to create one – here's a step by step guide.
Step 1:
Go to the APRICOT 2020 registration page. Click the "Register Now" button.

Step 2:
You'll be taken to the APNIC Login page. Click the word Register on the right.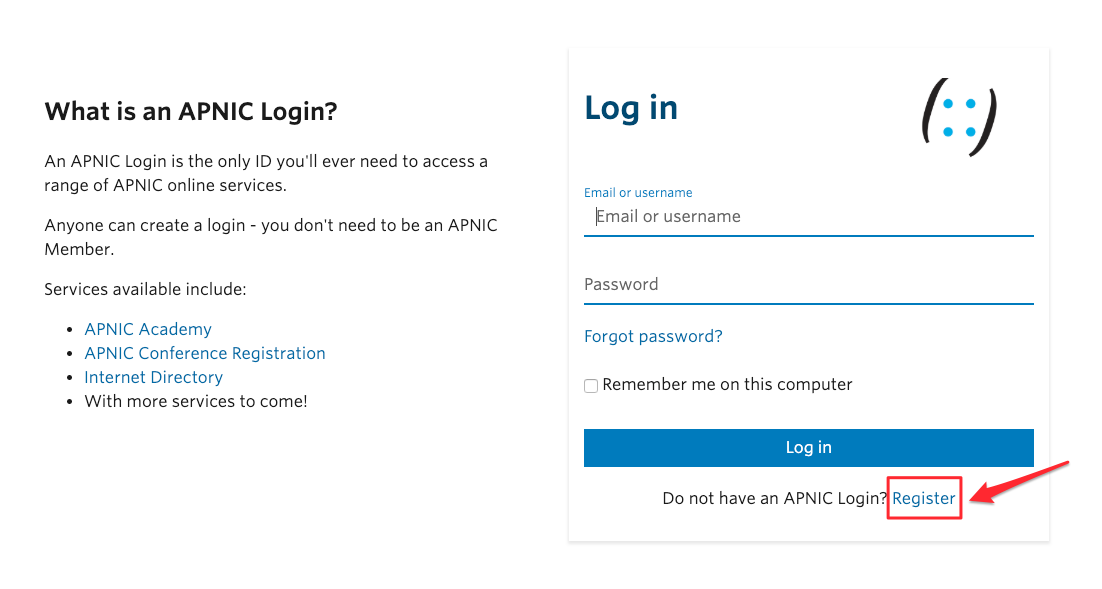 Your screen will now show the Register page, Enter your details into each of the fields:
Your full name: Enter your real full name here
Email: Enter your email address that you will use to login
Password: Enter a password of your choosing. It must contain eight or more characters and at least one number
Display name: This is the name that will be displayed on your profile
Then click "Register".
Step 3:
Check your email. You should receive an email from APNIC (sent to the address you entered in step 2) to confirm the address is active. Click the link in the email to confirm your address. Make sure you check your spam or junk mail folder if the email doesn't appear.
Step 4:
You'll be taken to a page to verify your email address. If the address is correct, click on the link provided. Your email address will be verified. Congratulations, you now have an APNIC Login!
Now that you have an APNIC Login, you can register for the conference.
1.
Go to the APRICOT 2020 registration page. Click the "Register Now" button.

2.
Use your APNIC Login details to log in.
3.
You will be taken to the event registration form. The top of the your screen should look like this: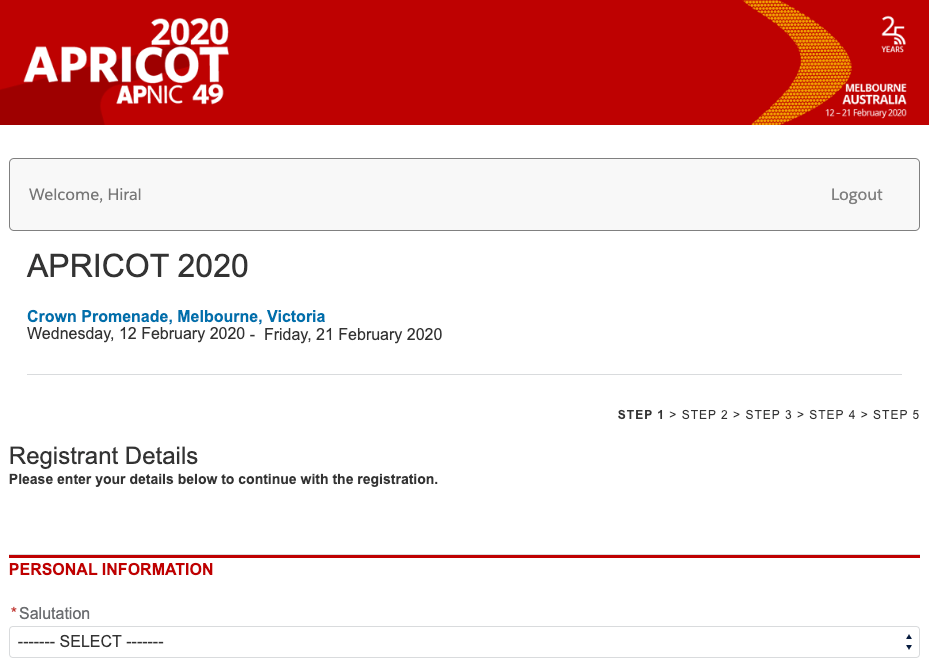 There are five Steps to complete. Step 1 of the form is to fill in your personal details. All fields marked with a star (*) are mandatory. Those without a star are optional. Once you have completed the fields on this page, click the "Continue" button.
4.
You're now at Step 2 of the form. If your organization is an APNIC Member, please enter your organization's APNIC account name here. If you don't know your organization's account name, please speak to the person in your organization who deals with activities related to APNIC. When you're finished on this page, click "Continue".
5.
You're now at Step 3 of the form where you can choose your ticket type. Click on the ticket type you wish to register under.
6.
You will now see a range of options for sessions you can select to attend. Choose if you would like to attend the Workshops, the Conference, or both. You can also choose to attend the APNIC AGM and other side events, and order additional social tickets if you wish. When you are finished selecting your sessions, click "Continue".
7.
You're now at Step 4 of the form and will see a summary of what you have selected. If you want to make changes, click "Back" and you can change your session selection. If something looks wrong with your personal details, you can also go back to step 1 of the form and edit them by clicking the "Edit" button to the right of your name, email and ticket type. If everything looks correct, click "Continue".
8.
Your final registration details will now appear, with your total cost shown in US Dollars and Australian Dollars. If you want to change anything, click "Edit Registration". If all is correct, click "Continue".
9.
You now need to agree to the Terms and Conditions to proceed. Check the box if you agree.
10.
Click "Submit" and follow the payment process to finalise your order.
11.
That's it! You have now registered for APRICOT 2020 and will receive an email with your invoice/receipt and invitation letter. We look forward to seeing you in Melbourne!
If you have any additional questions on your registration, please contact us at secretariat@apricot.net